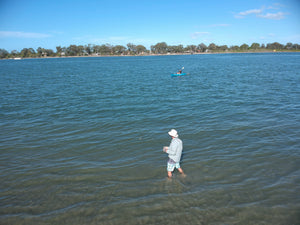 Learn to fish soft plastics - a beginners guide- Intro
Welcome to our series on starting off in soft plastic fishing. No more smelly bait fingers for you, no more dollars spent buying bait to feed to ungrateful fish and hello to the exciting new world of fishing with soft plastics. 
I can assure you that here at Skulldrag Industries, we will never claim to be experts as we are still learning ourselves, but we can share with you some of the techniques that may well put a few more fish on the table, Instagram or Facebook for you. 
Everybody loves accessory sports and fishing can be no exception at times, but this series is about getting you started in soft plastics with a minimum of fuss, cost and tackle to start enjoying the great outdoors. 
To the Mums and Dads out there, this might be just the thing to get your teenager out from behind the playstation and  into the real world for some 'facetime' with a fishy friend or two, can only be healthy right?
Over the next few weeks we will try to post some interesting articles on what you should consider when getting out into the great out doors to chase some quality fish.
---