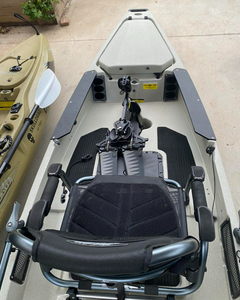 Hobie PA Fit out Part 1
Had quite a few comments on the recent PA14 acquisition and people wanting to see the mod process. So being far from an expert, I looked at what would suit my fishing style and what I wanted to use the new battleship for in the future.
First off, the biggest trepidation was really about how pristine the hull condition was, and I was nervous about making sure any mods were done right first go ( ie: no extra holes).
Now the newer model PAs have the new H rail system running right along the sides and this makes it easer (and probably more expensive) to add and install component clamped onto the rail (ie:removable or adjustable) and after a quick chat to Sean Bekkers from Outcast Angler about the new Hobie models, I opted not to retrofit all new H rails and to continue with what I had, plus I had heard that full length rails can make entry make entry and exit a little more problematic.
So I started about making a plan of what I wanted for the future and what I found useful in my past experience:
1/ dual forward rod holders either side- in easy reach
2/ sounder mount on the right hand side on a swing arm within easy reach
3/ mounting points for rear Berleypro orb light, including power
4/ go pro mounting points and if possible with charging port.
5/ temporary vertical rod storage- for when unhooking fish, not for trolling
6/ deck lighting
7/ a waterproof switch system and
8/ provision for a medium icebox (esky) on the back with vertical rod storage

The aim of this was to pull all the elements I use regularly and to systematically plan their integration into the build, before putting costly holes into the hull.

So if there is any advice I can give you on the first step of any modification, is that you should make your wish list up and plan your build.

Talk to other fisho's with the same make and model kayak on what they found useful or any traps for young players.

Stay tuned for the next post on - measuring the dog!
If your keen for more fishing tips and tricks check out our youtube channel or our facebook and Insta for more updates on what we are up to!
www.skulldragindustries.com
#fishing #skulldragindustries #lukeslines #getoutandfish #teamskulldrag #skulldragnets #fishingislife
---