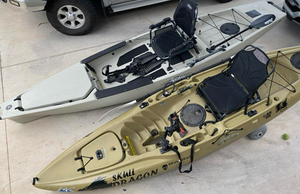 Hobie PA fit out Part 2- Measuring the dog
There is a well known saying in my family (apparently stemming from play school) that 'if your going to build a dog house, you have to measure the dog'.
And it seemed fitting that comparing my previous ride to the new girl and taking a look at the things I wanted to make easier for myself in the yak where included in the new install.

I also needed a bit of a local expert to give me the benefit of their experience, and a weekend BBQ was arranged with Rhys Holmes, who was a fountain of knowledge, gotchas and generally a good all round bloke.
We looked at the placement of the rod holders Vs the sounder, as I did not want the sounder to crowd quick access to the holder if required, and we looked at the reasonable reach length from the seating position to the holders and settled on a side port option for the installation of a RAILBLAZA swing arm mount for the perch for my current 9 inch Humminbird sounder.
I elected to to convert all the new mounts in the new ship to railblaza, purely for the transportability and ease of use, as my boat is also fitted with Railblaza mounts and my sounder and rod holders transport directly across with ease.
This planning session also allowed me to nut out alternate routing of the sounder lines (which will mean drilling 1 inch holes onto the sidewall) and Rhys was able to advise me on the steering line location so as to not interfere or damage that.
I also had the chance to consider the Berleypro orb location(to be located behind my right shoulder whilst seated) and light wiring runs and the extra power port locations for the GoPro 10 mount (on the left side behind the seat).
All in all it was a productive and enjoyable session in measuring up the new ride to maximize my comfort.

If there is anything I learned from this exercise is to take your time. We all want to rip tear bust and get on the water with a new toy, but I am glad I slowed down the process, took good advice and planned the mods.

Part 3 will focus on the first initial mods- the first cut is the deepest.
If your keen for more fishing tips and tricks check out our youtube channel or our facebook and Insta for more updates on what we are up to!
#fishing #skulldragindustries #lukeslines #getoutandfish #teamskulldrag #skulldragnets #fishingislife

---