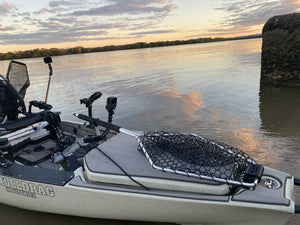 Installing the Skulldrag Guardian to Hobie PA
The Skulldrag Guardian is a great way to secure your net and have it front and centre in your next kayak fishing adventure! 
This blog is a step by step guide on how to install the guardian to your Hobie Pro Angler (PA) 12 or 14.
The PA installation bracket comes pre-fixed to the Salty C net keeper and slots directly into the forward webbing hinge point on your kayak. 

Step 1

Using a star screwdriver, remove the stainless steel screws and washer under the webbing hinge on each side. Note the orientation of the webbing hinge under the washer, it runs towards the bow. You won't need these screws or washers, however we suggest you keep them in case you ever want to remove the Skulldrag Guardian.
Step 2
Place the supplied stainless screws through the penny washer and place through hole in webbing hinge.
Step 3
Place the install bracket on top of the webbing, with the webbing running towards the bow and use the supplied stainless screw and washer to tighten down the adaptor bracket to the kayak.

As shown this can be tricky, and you may need another person to move the PA hatch forward enough to be able to get the screwdriver in. If your not confident using tools, use a manual screwdriver to work the screws in as over-tightening of these can strip the plastic and result in a hinge screw that will not hold. 

Step 4
Install the mast tube into the mast bracket.

If you have an older PA, then you will have a bungee cord keeper. If you have a newer model that does not have this, then a few wraps of electrical tape around the mast pole will slot into the mast keeper in the kayak and stop any unintended rotation.
Lock off the bungee and you are good to go!
A final word
The Skulldrag Salty C bracket and PA adaptor are made of ABS plastic, resistant to UV light, however like all plastic fittings should not be exposed to prolonged sunlight in the yard whilst not being used. It is also moderately impact resistant but is designed to fail before ripping holes in you kayak, if it gets caught up. 

Always ensure that the interior of the Salty C bracket is free from mud and debris as this will scratch and damage your silicone net as it is inserted and extracted.
Enjoy the experience of being on the water with complete confidence that your net is secure and ready to go, whenever you are, to net that next PB.
As always, if you have any questions or concerns about the install, please contact us to discuss.
#teamskulldrag
---