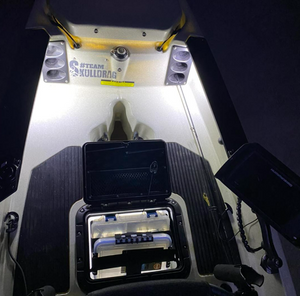 Powering the dream
In the last of the series on this topic, we take a look at how we are going to power the whole system. 
We have gone for the FPV power system and while we have run into a few issues with FPV batteries, they are still the best option on the market to power kayak systems. The lightweight Litihum batteries are an awesome addition to power the dream. After initially trying to work through our own wired up power distribution system (which worked but was clunky and likely not all that weatherproof, on the right in the picture below) we went for the FPV splitter box system and remote control.
Seems a bit fancy huh! well it is and works well. It has 4 remote switch power adaptions and two full-time powered splitters, ensuring that all your favourite toys are powered. 
The option of the remote allowed us to power side lights, internal hull lights and front hatch lights and the Berley Pro Orb independently while still having sounder and go-pro power connections powered.
The end result was a stable power supply, lights up the wazoo and power to all the toys, nothing better than that. Plus the bonus is that we might also get to sneak in a few more pre-dawn, post-dusk hours while chasing down those mid-week dreams out on the water.
The PA 14 project has been huge, but a lot of fun and we have learned a lot along the way. But if we had to sum up the key points of tackling the project:
Be sure of what you want for the style of fishing you want to do
Make a wish-list and do your research on what's out there
Talk to those who have done it before, it's invaluable
Don't be afraid to have go, but make sure you measure twice and cut once.
Get out and fish!
Thanks all for checking out the series, if your keen for more fishing tips and tricks check out our youtube channel or our facebook and Insta for more updates on what we are up to!
Happy fishing and tight lines
Lee from Skulldrag
---